This item was developed about 15 years ago. The customer wants to develop a portable lip balm. The lip balm shall be retractable. We are the specialist in retracting reel fields for many years. They found us through some channels.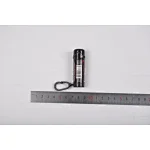 This is a combination of several products. They are all made of plastic, NON-FERROMAGNETIC.

The clip is designed with a flip top structure. There is no spring inside. We already delivered millions of this kind of clips. Now we built an automatic line to make the clips.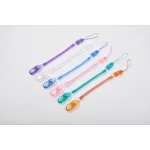 ​​​​​​​This pacifier save belt was developed by the requirement of a European customer.
The clip is made of BPA & BPS-free materials.
There is a plastic sliding lock allows one handed attachment and detachment of clip from clothing – safer than sharp metal pacifier clips.
The removable silicon ring is designed to fit any pacifier. Regardless of type of binky, clip will fit with ring or with ribbon.